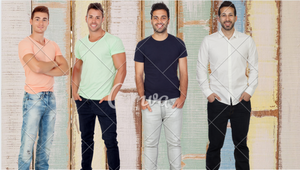 Way to wear plain T-shirt that give celeb looks
There may not be anything trailblazing about a plain T-shirt, but for its ease, versatility, comfort factor—and the fact that we know for sure you all have at least one that makes them your best wardrobe staple. we will be looking at some famous celebs that can help us decide ways to wear a plain T-shirt. celebrities are considered to be on frontlines of the trend-setting world, whether or not they are creating the trend or following it. Most celebrities then become icons for fashion statements and are known for his or her attractiveness and their well-dressed figures.
But what about us for normal people?
If you're reading this today, but here you will be able to see equivalent or similarly styled outfits! plain T-shirt. Great T-shirts have always been a staple in every wardrobe. A cotton T-shirt always keep you fresh while understanding , keeping cozy while lounging, and now they're also a mainstream fashion — and power statement.  a round crew neck t-shirt can be worn with a suitIn short, everyone seems to be upping their T-shirt game

Above are some famous celebrities you can see wearing different t-shirt you can check our website bngwear.com for buying plain t-shirt. Please leave your comments below stay connected for more updates on t-shirts.
---